Over the last 15 years, Mike Shaw Automotive has grown into one of the largest Subaru dealers in the region, and sales have dramatically increased. This means we're hiring techs to help meet the growing demand in our service center. Apply now to take advantage of our 3/13 program where you only work three 13-hour days each week. If four days a week off sound nice, just wait until you see our compensation packages. We're hiring Subaru and import technicians as well as ASE Certified technicians. Even if you're not yet certified, one of the many benefits of being a technician at Mike Shaw Subaru is that we offer reimbursement for ASE certification as well as paid training!
Automotive Technician Jobs at Mike Shaw Subaru Come with Highly Competitive Pay Plans AND:
4-Day Workweek for Technicians
Flat Rate Based on Experience & Certifications
Performance-Based Pay Plans
Prescription Insurance
Medical Insurance
Accident & Critical Illness Insurance
Dental Insurance
Long Term Disability Insurance
Short Term Disability Insurance
Vision Insurance
Life Insurance
Catastrophic Tool Insurance
401(k) Retirement Plan
Paid Holidays
Paid Vacations
Reimbursement for ASE Certification
Paid Uniforms
Flexible Scheduling
Performance Bonuses
Employee Vehicle Purchase Program
And More!
Apply Now to be an Automotive Technician at Mike Shaw Subaru in Thornton, CO
Your career is the most important investment you can make in yourself, and you'll find that it doesn't get better than being a part of our dealership. We were named Time Dealer of the Year in 2012, and that's just the beginning. Recently recognized as sixth largest Denver-area veteran-owned business and #1 Denver-area minority-owned business, Mike Shaw Subaru has built its success by investing in our people. That's why we have technicians, an advisor, and manager that have been with us since the start 15 years ago. We're located at the foot of the Rocky Mountains near one of the nation's fastest-growing cities, and this is a great opportunity for automotive technicians. If you feel that you can add to our success, call our service manager or fill out this form. We make the hiring process easy, and the compensation for service technicians can be very rewarding!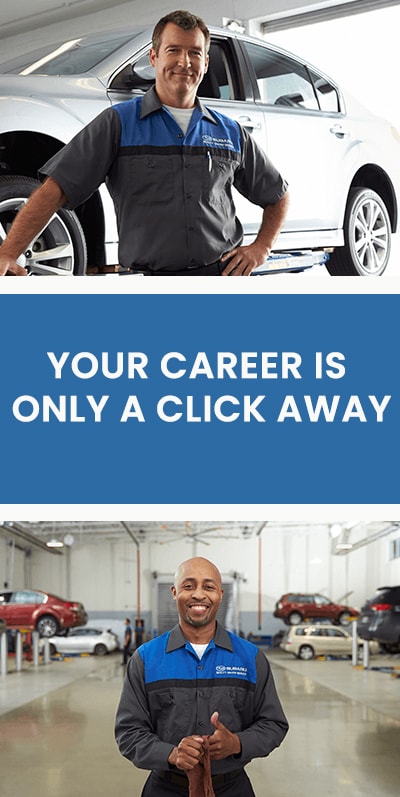 Apply Now
* Indicates a required field