The 2023 Subaru Love Promise Community Commitment Award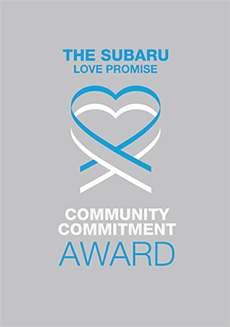 We've been nationally recognized for our dedication to our community and the Subaru Love Promise.
We're honored to receive the 2023 Subaru Love Promise Community Commitment Award. This award nationally recognizes Subaru retailers who are making the world a better place while demonstrating an outstanding commitment to supporting passions and causes in local communities. These efforts are focused in important areas such as the environment, community, health, education, and pets.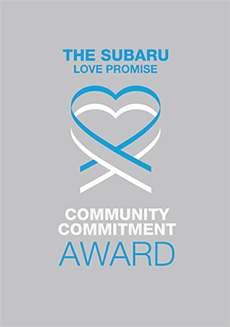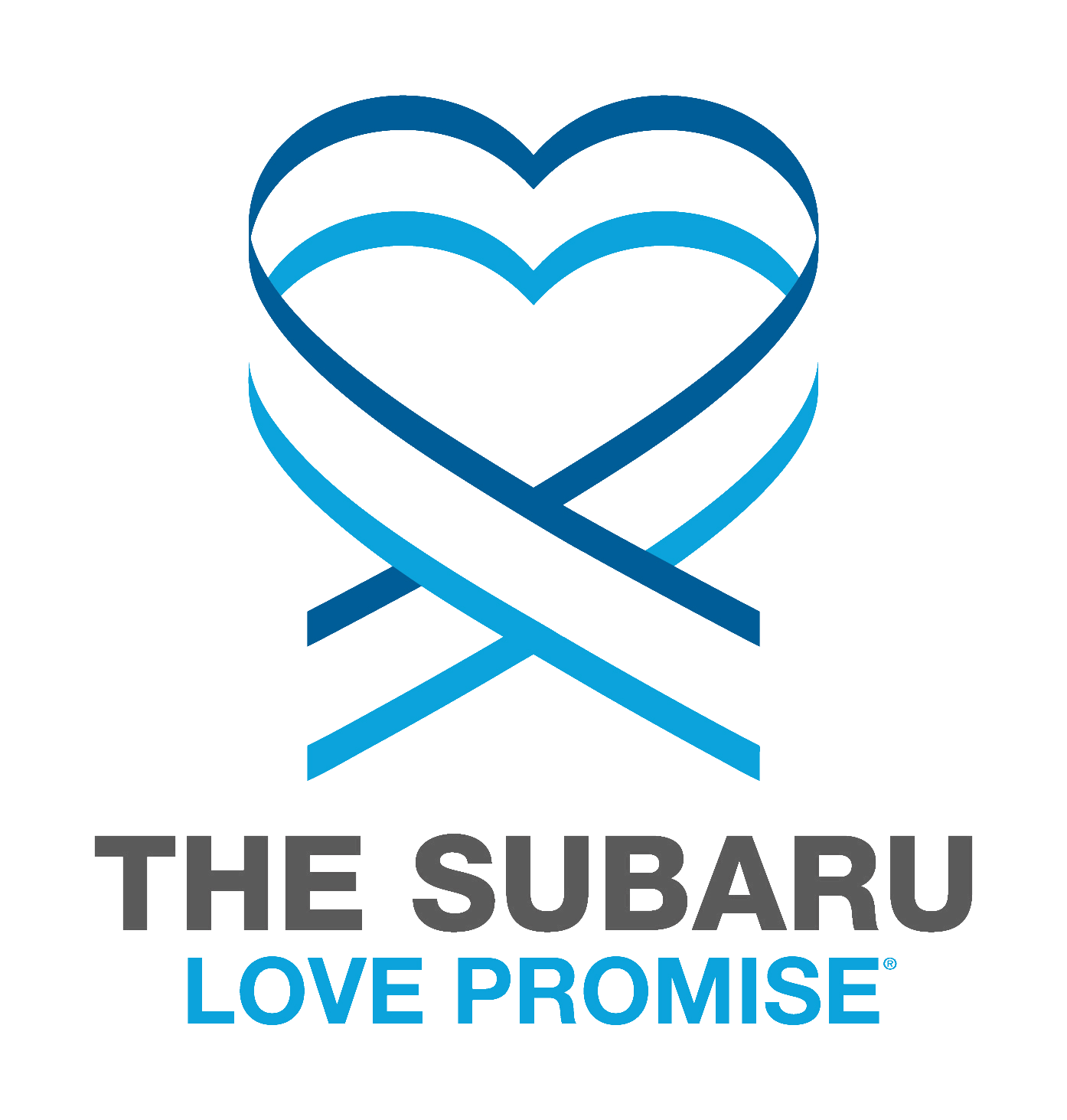 What is the Subaru Love Promise?
Subaru and our retailers believe in making the world a better place and the Subaru Love Promise is our vision of respecting all people. This is our commitment to show love and respect to our customers and to work to make a positive impact in the world.
How is Mike Shaw Subaru dedicated locally to the Love Promise?
We are committed to the Subaru Love Promise by making our team members, guests, business partners and our local community feel loved and respected in all interactions with our store.
Do Over Dogs, 2 Blondes All Breed Rescue
EcoFriendly Dealership Certification, TerraCycle, Groundwork Denver
Northglenn High School, Legacy High School, Boys and Girls Club, AMP - Academy Music Parents Association, Thornton High School
Cancer Support Community, B Strong Ride, Generate Hope, Senior Veterans Inc., Arvada Jefferson Kiwanis Foundation, Almost Home Shelter, Veterans Community Project/Habitat for Humanity
Children's Hospital Colorado Foundation, Boulder Cancer Fighter's Foundation, Anschutz Medical Center, University of Colorado Hospital, Boulder Community Hospital, The Susan G Komen Breast Cancer Foundation, Inc.
Love Promise Stories from Mike Shaw Subaru
Subaru and Mike Shaw Subaru believe in making a positive impact on the communities in which we live and work. We uphold that belief through our Love Promise Community Commitment. Every month, we select inspiring stories from customers and partners from around our area who strive to support our collective commitment and feature them here
Outpouring of Love! - Kay J
The list of how the Shaw and Subaru Share the Love® donation has allowed for program enhancement and improvement is lengthy. Some of the highlights are listed below. Medical Day Treatment (MDT) primarily serves an at risk, underserved patient population. These children and their families face many psychosocial stressors including single parenting, homelessness, and poverty. Dealing with these stressors becomes even more complicated when raising a child with a chronic or life limiting illness. The ongoing generosity of the Shaw Subaru organization has aided MDT in improving the quality of life for not only our patients but their families as well. The donated dollars have gone toward upgrading technology, new curriculums for both classrooms, prizes for student recognition, materials for individual and group therapy, funds for community outings, purchasing patient medications along with gift cards for food and gasoline, and a wheelchair van that has room for three wheelchairs. Children's Hospital Colorado and the staff at Medical Day Treatment are so grateful to the Shaw organization. Our clinic would not be the same place without their ongoing generosity and support! Thank you all for keeping our kids in your hearts and supporting our work.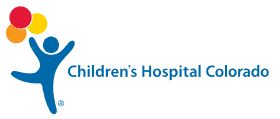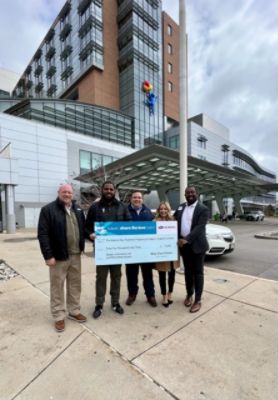 ---
Putting Hammers to Nails for Veterans - Miguel V
Recently, the team at Asbury Cares / Mike Shaw Subaru volunteered their time to help Veterans Community Project (VCP), a 501c3 founded by combat Veterans dedicated to ending Veteran homelessness. VCP provides wrap-around services to Veterans in need: providing support for long-term housing stability, helping to navigate other eligible Veteran support services, getting connected to community resources, and more. In addition, VCP has developed an innovative program of pairing homeless Veterans to intensive case-management services while residing in transitional tiny homes at the VCP Village. The VCP Village (located in Longmont, CO) is home to 26 transitional tiny homes and a 3,000 sq ft Community Center. At the Village, Veterans will get one-on-one case management to identify and overcome their barriers to housing. Once stable and on their feet, the Veteran will then transition out of the tiny home into their own permanent residence, with case managers aiding them every step of the way. Mike Shaw Subaru's team put hammers to nails, helping to frame, put siding, and paint the tiny homes at the village! The team donated ~100 hours of time towards the construction of the VCP Village. By 4th quarter 2023, a homeless Veteran will have a roof over their head, thanks in part to the time offered by the Mike Shaw Subaru team. VCP Is grateful to the Asbury Cares team for showing their support to our community's Veterans!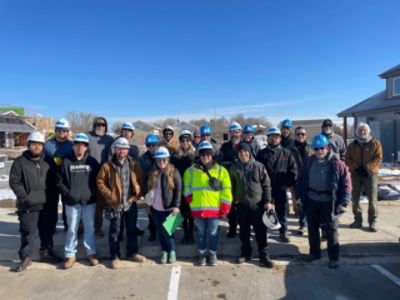 ---
Supporting Unhoused Individuals in Our Community - Rachel M
Through the Subaru Loves to Help® initiative, Mike Shaw donated 500 pairs of socks to Almost Home, a shelter that supports unhoused men, women and children. Socks are the #1 most requested items by homeless shelters and we are so thankful for this immense donation. Thanks to Mike Shaw Subaru's Ambassador, Patty, we also received 50 self care kits to hand out to those who need them most. These kits included items such as shampoo, conditioner, soap, toothpaste, toothbrushes and Chapstick. We cannot express the gratitude we have for this donation. It will help out more than you ever know. Its donations like this that make Subaru more than a car dealer. Thank you Mike Shaw Subaru!

---
Saving Lives from Breast Cancer - Kerrie K
Mike Shaw Subaru is a proud sponsor of myself, Kerrie, and the Susan G. Komen three-day, 60 mile walk in Denver! Together, we are making a difference by raising funds for research and support for those experiencing breast cancer. Mike Shaw's donation saves lives through breakthrough research and support to people facing breast cancer today by providing access to screening, treatment assistance, patient navigation and education. Mike Shaw Subaru is providing real time help to those facing breast cancer. I cant wait to walk in Susan G. Komen's 2023 Denver walk! I am so beyond thankful for Mike Shaw Subaru's support and participation in this event. Together, we are saving lives!! Thank you again Mike Shaw!!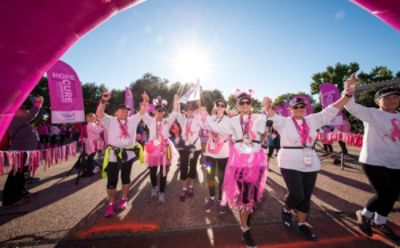 ---
Supporting Children through the Love of Music - Andy G
AMP (Academy Music Parents Association) is SO beyond thankful for the support we received from Mike Shaw Subaru for our 2022 Kaleidoscope Music Festival. Mike Shaw's monetary donation helped support low income children pursue their passion for music and the arts. The Kaleidoscope Music Festival is put on every year as a fundraising opportunity to raise funds to assist children in learning, practicing and preforming music on their desired instruments. We are so thankful for the support we have which makes us able to keep inspiring these children, Thank you Mike Shaw!

---
10 Out Of 10 - Dave S
Came to Mike Shaw Subaru to test drive a car of which we acquired details online. My son, wife, and myself were met in the lot by Nathan Hancock. Nathan's character and presentation of whom he is was professional to the highest level in my opinion. I found him to be extremely knowledgeable with all the makes and models of each vehicle we inquired about. Honesty is valued highly for me when purchasing a car. He checked that box and earned my time and business. Throughout the entire experience Nathan exhibited so many traits and qualities you hope for and desire in car sales. Nathan, Thank you...Thank you for your kind persona and your patience with us. You created a fun and easy going atmosphere throughout our visit and purchase of my son's vehicle. You worked a great deal for Blake. I would look at Mike Shaw Subaru in the future for another used car, and I would ask directly to have Nathan do the work again. You get a 10 out of 10 rating from me; Nathan.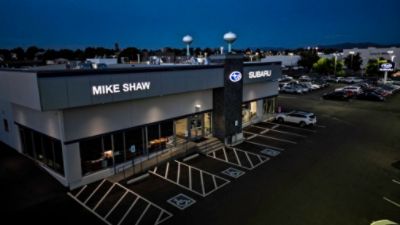 ---
Generating Hope for Survivors - Rachel L
We were blessed to have received a $25,000 donation from Mike Shaw Dealerships! My name is Rachel and I am the Director of Development for Generate Hope, a non-profit which provides long term housing to survivors of sex trafficking. Mike Shaw Subaru has not only donated this HUGE financial gift, but they have also donated their time and have volunteered on projects around our home. We cannot explain how thankful we are for the support and encouragement we have received form Mike Shaw Subaru. This donation will change the lives of survivors here now, and ones to join us in the future. This donation will go directly to empowering and restoring lives of our residents. WE ARE SO BLESSED BY MIKE SHAW SUBARU, THANK YOU!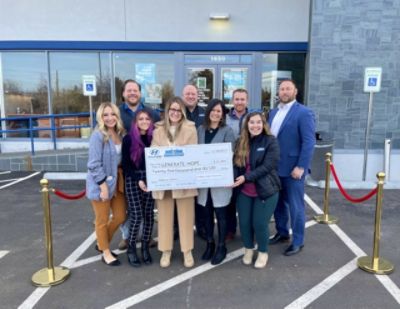 ---
Living the Subaru Slogan - Eddy O
"Love is what makes a Subaru, a Subaru" to the outside may seem like a cliché tag line for a big brand, but for Sam Warren at Mike Shaw Subaru, that is his calling. We have worked with Sam twice now, the first time we came in to help sell my mother in laws Ascent. She had decided to give up driving due to her eyesight, Sam immediately connected with her journey and shared so much empathy with her. He was able to get us a great price on the sale, and helped make the process and the bank payoff so quick and easy. Since Sam was an amazing help, my wife and I decided to return to work with Sam to order a new car for her. He was so great and knowledgeable about the differences from her existing Subaru to the new one. The car ordering/reservation process was easy and straightforward, the hard part is the wait for it to arrive! 10/10 recommend Mike Shaw Subaru and Sam Warren. Thank you for being more than just a car dealership!

---
Supporting our Veterans - David B
We are so beyond thankful for Mike Shaw Subaru's $1,500 donation to the Senior Veterans Inc. Each year, the Senior Veterans Inc. aims to place Christmas wreaths on the headstones of the over 160,000 Veterans that are buried at Fort Logan, Fort Lyon and Pikes Peak National cemetery. Thanks to Mike Shaw Subaru's generous donation, we are 100 wreaths closer to hitting that goal. We are so thankful to see a company like Mike Shaw Subaru supporting and standing behind United States Veterans. Thank you again and God Bless.

---
Brad the Underdog Comes Out on Top! - Kelley L
Through our partnership with Mike Shaw Subaru in Thornton, CO, 2 Blondes All Breed Rescue hosted a meet and greet event on 10/30/2022, complete with costume contest and prizes (graciously provided by Mike Shaw Subaru)! During this event, we made several introductions that resulted in some amazing adoptions, not the least of which was Brad, a Subaru Underdog! Thanks to Jeff Lombardo and his staff at Mike Shaw Subaru, a combined 70 dogs were placed into loving and permanent homes during the month of October! Important to highlight were the SUBARU UNDERDOGS highlighted for the Month of October, which resulted in the adoption of SEVEN senior pets, TWO deaf pets and ONE amputee superstar! Here is the Story of Brad Pit - The Underdog that Came Out on Top! Brad had the odds stacked against him. Size (70lbs), Age (5), Breed (Staffordshire Terrier), Location (Urban, overcrowded shelter in Houston, TX). Time was not Brad's friend while he was in the shelter. As the days, hours and minutes that ticked by brought Brad closer to the dreaded euthanasia list, Brad remained blissfully unaware of his final countdown. But as more than one lady has said, there was just something about Brad Pit... Something that made our rescue want to take a chance on him. Brad is most handsome, but even in pictures, his personality just shined through; he has a smile that literally takes up an entire half of his block head! He is eager to please and friendly to all he meets. When our rescue committed to taking Brad, we marveled at what we interpreted as his "calm" demeanor as he could force himself to relax in even the most stressful of situations and sleep through almost anything (or so it appeared). When Brad finally arrived at our rescue in Denver, we quickly learned that Brad could sleep through anything because Brad couldn't hear anything! Our happy-go-lucky, 70lb lap dog was indeed, deaf! We knew that in order for Brad to be a successful adoption candidate, we would need to teach him basic obedience. And in order to teach him basic obedience, we would need to be able to communicate with him (first) - and what better way to communicate than through sign language. So off Brad went to the Prison-Trained K9 Program! Brad was an amazingly quick study and so eager to learn and please - we were amazed! Within four short weeks, Brad became a star student and completed the program, ready to become a member of someone's family as an ambassador of his breed! Brad was a rock star at the 10/30/2022 Meet and Greet at Mike Shaw Subaru in Thornton! He did so well in fact, that he caught his new mother's eye and heart and became her permanent sidekick shortly thereafter!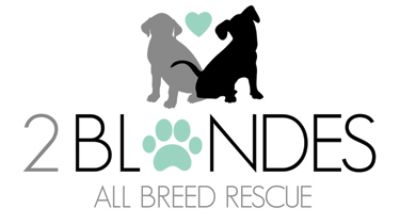 ---