The 2022 Subaru Love Promise Community Commitment Award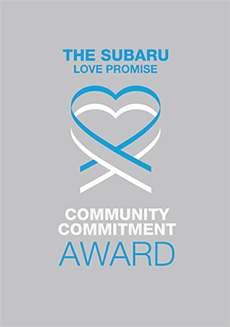 We've been nationally recognized for our dedication to our community and the Subaru Love Promise.
We're honored to receive the 2022 Subaru Love Promise Community Commitment Award. This award nationally recognizes Subaru retailers who are making the world a better place while demonstrating an outstanding commitment to supporting passions and causes in local communities. These efforts are focused in important areas such as the environment, community, health, education, and pets.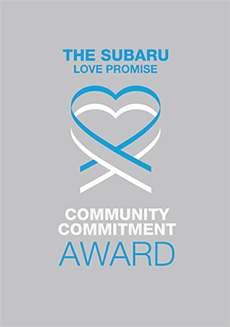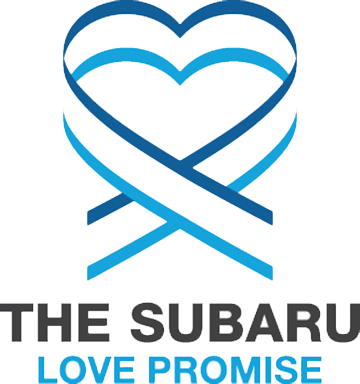 What is the Subaru Love Promise?
Subaru and our retailers believe in making the world a better place and the Subaru Love Promise is our vision of respecting all people. This is our commitment to show love and respect to our customers and to work to make a positive impact in the world.
How is Mike Shaw Subaru dedicated locally to the Love Promise?
We are committed to the Subaru Love Promise by making our team members, guests, business partners and our local community feel loved and respected in all interactions with our store.
Adopt a Pet, Golden Retriever Rescue, Circle2Rescue, Adams County Animal Shelter, Do Over Dogs
Clear the Air Foundation, Denver Police Foundation, EcoFriendly Dealership Certification, TerraCycle, Clean Burn Heaters
Blankets for Kids, Faith Christian Academy, St. Mary's Academy, Northglenn High School, Legacy High School
MyLifeline.org, Cancer Support Community, Thornton Police Department, B Strong Ride, Denver Children's Home
Children's Hospital Colorado Foundation, Boulder Cancer Fighter's Foundation, Anschutz Medical Center, University of Colorado Hospital, Boulder Community Hospital
Love Promise Stories from Mike Shaw Subaru
Subaru and Mike Shaw Subaru believe in making a positive impact on the communities in which we live and work. We uphold that belief through our Love Promise Community Commitment. Every month, we select inspiring stories from customers and partners from around our area who strive to support our collective commitment and feature them here
Helping Thornton's Youth - Jenn S
We are so incredibly grateful to our partners at Mike Shaw Subaru for supporting our advanced math and science programming this year! Thanks to Mike Shaw Subaru's generosity and the Adopt A Classroom.org program, we were able to purchase new Advanced Placement Calculus materials to support our new calculus teacher and her students! Our calculus teacher shared the following, "Our new calculus materials allowed me to focus on providing students with feedback as opposed to finding or creating resources for students, thank you Mike Shaw Subaru!" In our advanced chemistry class, students are required to create and analyze their own lab experiments. Thanks to the additional funding provided by Mike Shaw Subaru, we were able to purchase chemicals beyond the standard level to support the lab portion of the class and student's individual lab assessments.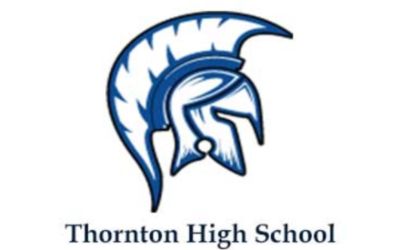 ---
Above and Beyond Customer Service - Lee W
I just got my new Forester Wilderness edition a few weeks ago and the whole experience was amazing from start to finish. I had to place an order for the car because it's hard to get anything in stock and this car is in EXTREME demand. Despite the demand my price was exactly what it should have been! No crazy markups or "dealer adjusted prices", etc. Once the car arrived, the purchase was straight forward and simple. My salesperson, Nathan, knew everything about the car. He explained all the bells and whistles and made me feel very comfortable in the car. HE EVEN CARVED ME A CUSTOM KEYCHAIN with my name and some mountains on it! Seriously, who does that?! Amazing! The car has been awesome and it's exactly what I wanted. I wouldn't hesitate to buy from this dealer again. Thank you Mike Shaw, for your great employees like Nathan who cultivates life long customers for your dealership.
---
Worth the Drive - Valerie H
The kind people at Mike Shaw are worth the drive to Northglenn. It takes a while for new cars to arrive these days, but Alex was so great about answering questions about features and checking in as the days got closer. He did a complete walkthrough of the car's features even though it was near the end of workday. It's just so nice to work with folks with that laid back, friendly, old-school customer service that so few places can make the time to spare anymore. A real treat most places nowadays, customer facing folks are scraping time together and doing their best. It was truly a pleasure to work with Alex and the rest of the team at Mike Shaw. They truly do make the difference every. single. time.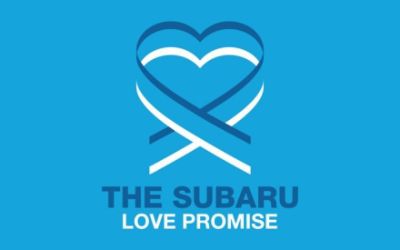 ---
A million Thank You's! - Mike Shaw S
We truly cannot thank Mike Shaw Subaru enough for the generous blanket donations to our shelter, Almost Home. It is very difficult to put into words what an impact these 80 blankets will have on our shelter and residents. As many may know, blankets are the #1 item needed in shelters and it seems as if we never can have enough. Thanks to Mike Shaw Subaru's generosity we are now fully stocked for the entire year and winter ahead. Thank you to Lauren and the team at Mike Shaw as a whole for making this possible. We truly appreciate your partnership and support!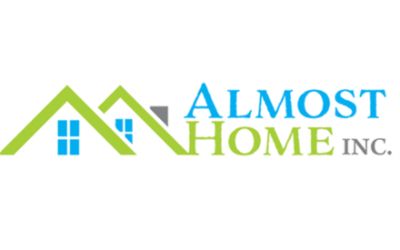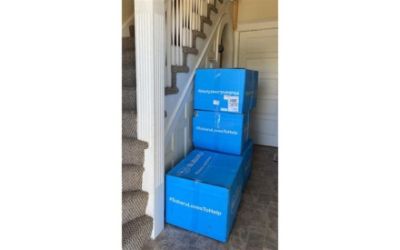 ---
Funding a Full Year of Integrated Cancer Care - Dominic S
B Strong Ride is EXCEEDINGLY grateful to Mike Shaw Subaru and its general manager, Dominic Scrivner, as well as Subaru of America for their outstanding support of the event and its beneficiaries. B Strong Ride is a Boulder, Colorado bicycle event that celebrates cancer survivorship and each year funds the complete year of cancer care at the Center for Integrative Care at Boulder Community Health, as well as benefiting other cancer charities. None of that would be possible without the steadfast support of Mike Shaw Subaru and Subaru of America, who have supported the event for 9 years, with Mike Shaw Subaru acting as the event's Presenting Sponsor. Our hero at Mike Shaw Subaru has been Dominic Scrivner, the General Manager of the dealership. Despite the fact that Dominic was in the midst of his own battle with cancer, when Dominic came to us to support the event and beneficiaries he told us, "I feel compelled to do what I can for the multitudes of people affected with cancer that need financial, spiritual and psychological support." Again, this in the midst of fighting for his own life. Easy to say, but these weren't just words. Dominic not only brought the support of Mike Shaw Subaru and Subaru of America, but he went to work rallying dozens of donors to the cause, becoming both our most successful fundraiser, as well as most generous personal donor. Dominic even chose to ride the event – a mere 12 days after completing his chemo treatment – an act of love and will that left us stunned and earned him a lengthy standing ovation at the post-ride ceremony. Dominic, Mike Shaw Subaru and Subaru of America have been key players in B Strong Ride raising over $3.5 Million since its inception to ensuring that no patient at Boulder Community Health ever goes without integrative cancer care. Dominic's support and that of Mike Shaw Subaru and Subaru of America have also allowed B Strong Ride to support the several other cancer charities:· Camp Kesem· Live By Living Foundation· MyLifeLine.org· First Descents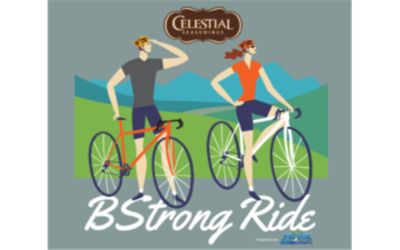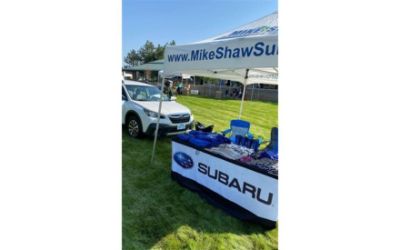 ---
Gilda the Miracle Dog! - Kelley L
Gilda was a neglected dog in New Mexico, whose owners didn't realize her foot had become entangled in a blanket for 3 days! After what we could only imagine was an excruciating amount of pain and unable to get food or water, she made a horrible life saving decision and gnawed her foot off to escape. Through some incredible people, Gilda arrived in Colorado needing a leg amputation. 2 Blondes All Breed Rescue stepped up and brought Gilda into their foster program and paid for the leg amputation, resulting medication and physical therapy she needed to allow her to become a viable rescue for a lucky family. 2BABR partners with multiple companies, such as Terracycle, to raise funds to assist dogs like Gilda. Terracycle has a program that allows people to drop off empty dog food bags that are recycled by Terracycle with a portion of the proceeds going back to the rescue allowing this rescue the ability to help dogs get the medical attention and rehab they need. Mike Shaw Subaru has graciously offered to be a drop off point for these empty bag donations at their Dealership.
---
Fresh Out of the Box - Mitc J
Nearly a year into the COVID-19 pandemic, Food Bank of the Rockies is redoubling our efforts to meet the increased need for food assistance in our communities. In 2020, we distributed over 100 million pounds of food which was a first in our 42-year history. Although this level of demand is unprecedented, we are committed to continuing to distribute food until everyone in our service region thrives. Food Bank of the Rockies is able to meet the increased need during the pandemic thanks to its generous partners like Subaru of America. The recent donation of 100 million meals to the Feeding America network through "The Subaru Love Promise" program helps food banks meet the challenges of food insecurity meet all people where and when they need us most. Together, we can truly make a difference. Community Story: Monica If you have visited our mobile pantry distribution site at Hinkley High School, Monica or one of her children has likely loaded your car with food. For the past five years, this Hunger Hero has helped nourish both her community and her family through volunteering. "And since the pandemic, we have been doing more and more," Monica confessed. "They need more volunteers and more help." On average, more than 200 families rely on the mobile pantry distribution site where Monica volunteers. "Some of them didn't know what they were going to get, and they're amazed when they see the meat or all the fruit they're getting. Everyone is so grateful and happy. This is helping them a lot," she observed. When times become challenging, Monica also leans into this community for food assistance and support. "I'm thankful to get some food for my kids, too." Community Story: Jeanette "Money was short," Jeanette disclosed. "Without [the mobile-pantry], we wouldn't have been able to get food." In March, just as the COVID-19 pandemic began to affect our community, Jeanette was injured from a fall. When her income was cut short, her household needed help to make ends meet. Facing food insecurity for the first time in years, Jeanette was unsure where to turn for assistance. Fortunately, she and her family heard about the Food Bank of the Rockies' distribution in Morgan County. She, along with her partner Shane and dog Spuds, visited our special, holiday mobile-pantry the Sunday before Christmas. Food Bank of the Rockies wishes to thank Subaru of America for its unwavering support of food banks across the nation to help us all help our neighbors.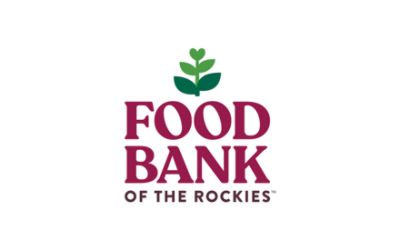 ---
Cancer Support Community Jockeys, Juleps, and Jazz - Nick B
Thank you so much to Dominic and Nikki Scrivner for their donation and challenge to double and match our TOTAL donation during the Jockeys, Juleps, and Jazz silent auction. Dominic is the General Manager of Mike Shaw Subaru, who is one of our sponsors. This year, Mike Shaw raised $15,000. We are proud to call Mike Shaw Subaru a partner since 2013.
---
Determination and Dedication - Dominic's Story - Jocelyn K
When we met Dominic Scrivner, he was bald – his hair a victim of chemotherapy. Hair, however, was the least of his worries. Husband and father of 3 (plus 2 dogs!), he was 3 months into a battle with stage 3 testicular cancer and fighting for his life. Some dates from what Dominic called, "a whirlwind life-changing experience": May 4: Dominic informed by his family doctor that his CT Scan indicated cancer May 7: Biopsy performed May 9: Biopsy results: Stage 3 testicular cancer. May 10: Surgery shortly thereafter Dominic embarked on a 4 cycle, 21 day-per-cycle chemotherapy protocol. In June he came across B Strong Ride on the internet. Moved by the work of the event's beneficiaries, B Strong became Dominic's mission, both: To raise funds to support the event's beneficiaries, as well as To ride - an audacious undertaking with chemo scheduled to end only 12 days before the ride. Nonetheless, Dominic went to work. He created a fundraising page and told his story, writing, "Hopefully, my final treatment is July 30th. This ride will without a doubt be difficult for me a mere 12 days after chemo, but I feel compelled to do what I can for the multitudes of people affected with cancer that need financial, spiritual and psychological support. The beneficiaries are the perfect organizations to supply these resources for people afflicted with cancer." "Scans will be completed days after B Strong to determine the necessity of surgery or further treatment. As of today, my tumor markers are within normal ranges and tumors have had significant improvement. Thank God!" "compelled to do what I can"...again, this in the midst of fighting for his own life. That August, Dominic completed B Strong ride. It took everything he had to make it. From B Strong Ride Director Paul Balaguer: At the post-ride ceremony, I introduced Dominic to the crowd and told a small fraction of his story, acknowledging him as both the event's highest personal donor as well as top fundraiser. I knew I would struggle to do this dry-eyed, and when I looked out and saw tears in Dominic's eyes, I knew I was done for. I did my best to express our appreciation, knowing I lacked the words to communicate how truly grateful we were for all he had done when he was battling cancer as well. Then, in a moment that still warms my heart, the crowd rose to their feet in an ovation that lasted well over a minute – their appreciation for Dominic, who, amazingly, had personally raised over $20,000. Mike Shaw Subaru is a presenting sponsor of the B Strong On Demand.
---
Tee It Up for Dawg Nation - Dominic S
Dawg Nation Hockey Foundation is an amazing organization that we have come to know. By accessing the unique power and compassion of the hockey community, we celebrate life and provide help in times of need. The help they provide to such a diverse group of people is incredible. What started as an idea to honor a fallen friend and "make a difference" has blossomed into an important resource for families in need. Their motto is Play Hard. Play Fair. Give Back. Mike Shaw Subaru volunteered at over 20 games this year at Sled Hockey for the Women's Division. This event was a golf tournament fund raiser where Mike Shaw Subaru was the hole in 1 sponsor for Dawg Nation.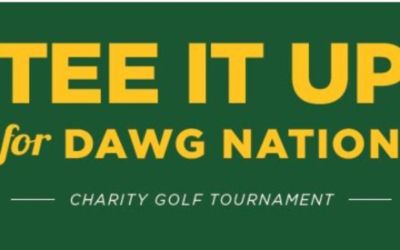 ---